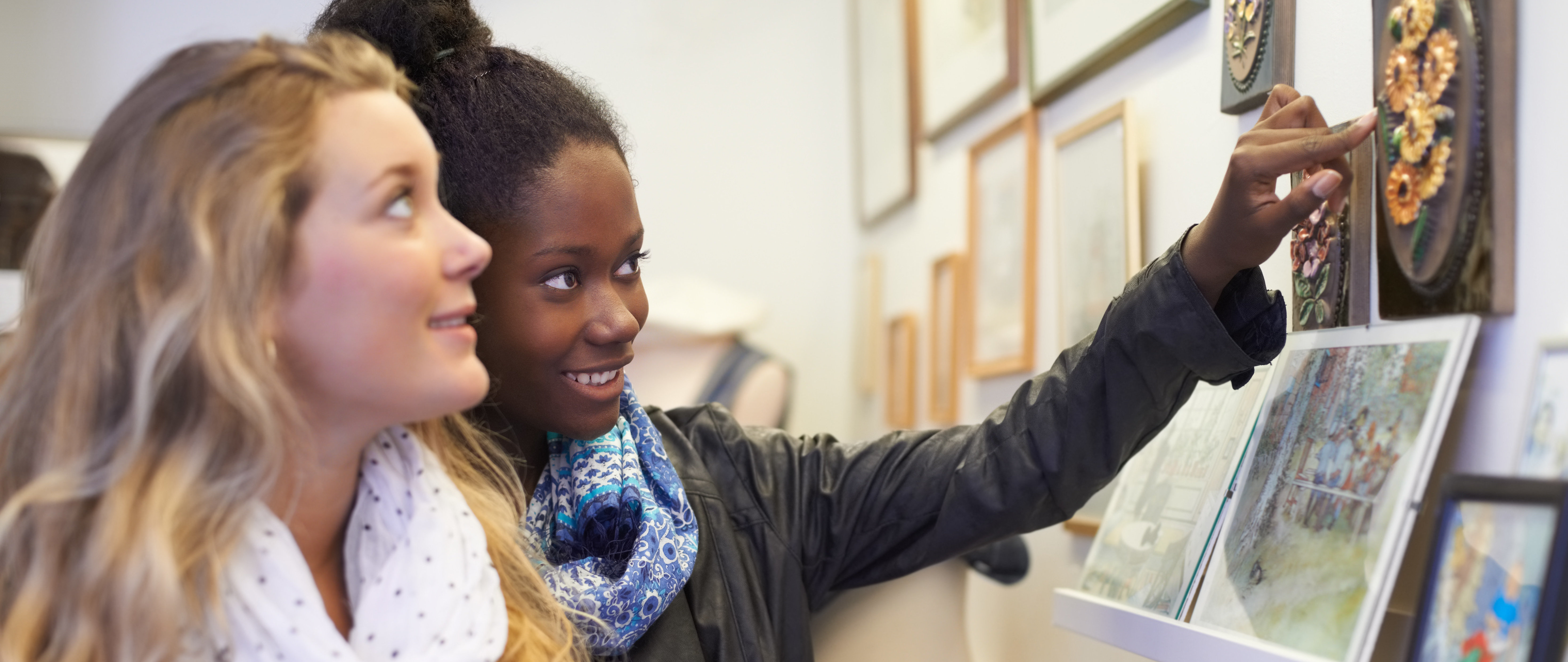 Look around your apartment or townhouse. How many blank walls do you see? Even if you have the perfect furniture and accessories in a room, bare walls will make it feel incomplete. Wall art is like the icing on the cake. It's the perfect way to add personality and make a space feel true to you.
The challenge is that most people feel uncertain about selecting art. Whether you're standing in a poster shop or looking at originals on etsy.com, it can be hard to imagine how something will look hanging in your home.
The good news is that if you follow three simple rules, you'll avoid the most common mistakes and make your place into something that really is your place.
Don't worry so much about color
Color often causes the most frustration when trying to choose art, because people think they have to find something that matches the other colors in the room. While matching some of the colors can be good, it's not a requirement.
Art that matches the existing colors of a room tends to blend in and be less noticeable. Art that contrasts with your other colors will stand out and call attention to itself. There isn't one right answer – the choice is yours.
Sometimes the colors in the art you choose can be the direct opposite of what you already have in your room. If you aren't familiar with the color wheel, just Google it. If the dominant color in your room is green, red is opposite it on the color wheel. That means when you hang a piece of art that has a lot of red in a room that has a lot of green, it really pops.
What matters most is that you find something that attracts you to it, and don't worry too much about perfectly matching colors. And if you're feeling unsure, you can always choose something black and white – particularly photography. It will go well with any color scheme.
Getting the size right means a little math
Generally, artwork shouldn't be wider than the piece of furniture it hangs over. You don't want it to swallow up your apartment (unless that's the effect you're going for). Conversely, you don't want one tiny print on an otherwise bare wall.
A simple math calculation is the most foolproof way to determine the size of artwork you'll need. This is meant to give you a range for how big or how small a piece can be in order to look good in a specific place.
Measure the length and width of your available wall space in inches. By "available wall space" we mean the blank area you want to fill. Don't include any wall space covered by furniture, molding, and so on.
Multiply the width by 0.57 – the result is narrowest your art can be.
Multiply the width by 0.75 – the result is the widest your art can be.
Multiply the length by 0.57 – the result is the shortest your art can be.
Multiply the length by 0.75 – the result is the tallest your art can be.
Using those measurements, you can avoid art that is too big or too small for a space. And if you're thinking of hanging multiple pieces in a space, just make sure the dimensions of the total grouping fits within your calculations.
When in doubt, you can use post-it notes to mark the four corners of where you want your artwork to hang. It's a quick and easy way to get a better sense of scale and help you visualize the piece before making a purchase.
Buy what you love
Whether it's original art or a print, an expensive gallery piece or a garage sale find, make sure you only buy what you love. Your apartment or townhouse should represent you. Don't be swayed by trends. When you buy art you love, what you put on your walls will stand the test of time… and tell everyone a little bit about who you are.