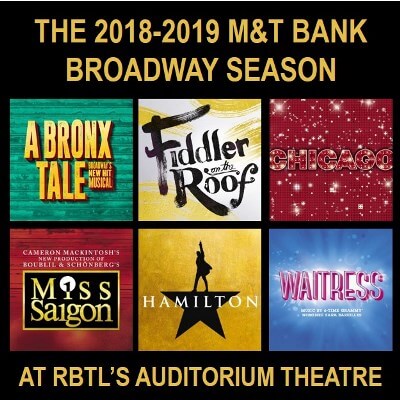 Experience Broadway in Rochester
As one incredible Rochester Broadway Theatre League (RBTL) season winds to a close, another wildly anticipated season is announced. The 2018-19 season is destined to be one for the books, mixing classic and contemporary performances, and bringing long-awaited Hamilton performances to town. If you don't already have plans to visit Rochester's Auditorium Theater next winter or spring, it's high time you perused the lineup and set your sights on your must-see shows.
2018-2019 Broadway Season Shows
A Bronx Tale – October 16-21, 2018Fiddler on the Roof – December 11-16, 2018Chicago – February 5-10, 2019Miss Saigon – March 5-10, 2019Hamilton: An American Musical – April 23 – May 12, 2019Waitress – June 4-9, 2019
Interested in a Subscription?
Tickets for the 2018-19 season are available to existing subscribers first. Later this Spring, a limited number of new opportunities to become a season ticket holder will be announced. If you want to be the first to know when new subscriptions are made available, you can purchase a $0 ticket here (no payment information will be processed). Only after full-season subscriptions are filled will individual tickets be made available. Given this year's highly anticipated lineup, there's never been a better time to become a subscriber!