Jean Allcorn and Hudson M. Valentine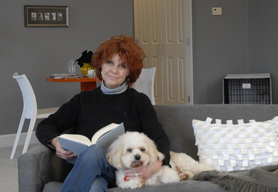 When I decided to move back to my hometown of Rochester, I searched online for an apartment that would fit my criteria. I had a list of five, but Erie Station Village kept coming out on top! Described as quaint and quiet (but with a modern edge), Erie Station evoked memories of old Shortsville, Canandaigua, and the 19th Ward.
My sidewalks are safe and many for me and my dog, Hudson. The pool and gym are an aerobic wonderland. The Clubhouse is a lovely spot for coffee or dinner. I am close to everything I need, but when I'm home, it's my quiet haven. This haven has the feel of permanence rather than transiency; the landscaping is nicely done, the Village Green reminds me of Thomas Tryon's book, "Lady," and the little lake is calming to be near.
My apartment has an incredible floorplan and because I have been able to decorate, it is no longer my apartment – it is my home. The icing on the cake, though, are the people – neighbors and the ESV staff (the community heartbeat!).
Sincerely, Jean Allcorn and Hudson M. Valentine