Explore Tinker Nature Park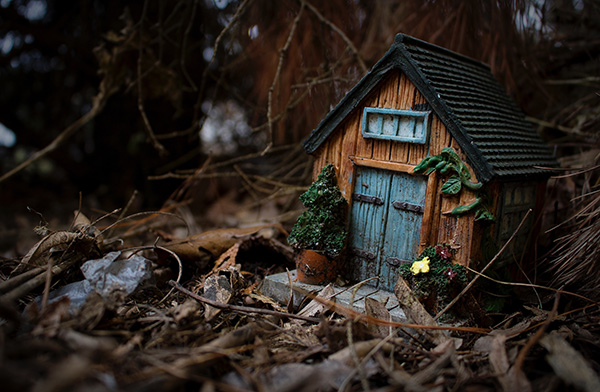 The fairy houses in Tinker Nature Park actually look more authentic than this one.
There's More to Love!
We've told you about Tinker Nature Park before, but there's just so much to explore! As a matter of fact, it's TripAdvisor's #1 Thing to Do in Henrietta! The park is located a little less than six miles away from Erie Station Village, or a 10-minute drive. Its basic features include two miles of very accessible, well-marked walking trails, pavilions & picnic tables, and an abundance of wildlife. Beyond the basics, however, there are several special attractions that will keep you coming back after your first visit. Tinker Nature Park is open year-round from 7:00 am until Sundown. Keep in mind that dogs and bikes are prohibited.
Several unique features include:
Wildflower Meadow & Wildlife Observation Blind – Observe the beauty and natural wonder of nature by spending some time at the edge of the wildflower meadow. During your visit (depending on the time of year), you're likely to see butterflies, songbirds, woodpeckers, geese, and deer.
Snake Hibernaculum – One of the many wildlife-friendly features of the park, the snake hibernaculum is an underground chamber where snakes can safely spend the chilly Western New York winter protected from the cold.
David A. Dimeo Memorial Labyrinth – The Meditation Labyrinth is located behind the Nature Center, near the Display Gardens. Find out more on this whole website dedicated to Henrietta's Labyrinth.
Fairy House Trail – Along the Perimeter Trail, from the Playground to the Fit-Trail Post, human visitors can catch a glimpse of the homes of tinier folk. Children of all ages will be delighted by the many Fairy Houses that pepper the forest of Tinker Nature Park.
Snowshoe and Cross-country Ski Rentals – During the winter months, Tinker Nature Park becomes a wonderland of a different type. Ski and snowshoe rentals are available Tuesday through Saturday at the Hansen Nature Center from 9 am to 3 pm. The rental fee is $3.00, and equipment is to be used in Tinker Park only.

Homestead & Farm Museum

–  The cobblestone house, completed in 1830, provides a glimpse into turn-of-the-century Victorian life. The Farm Museum charts the growth of agriculture in Western New York, as well as the impact of the Erie Canal. Tours can be scheduled Tuesday through Saturday, 10 am to 2 pm.
If you've yet to make your first visit to Tinker Nature Park, be sure to make it a must-see — once the weather breaks, of course!