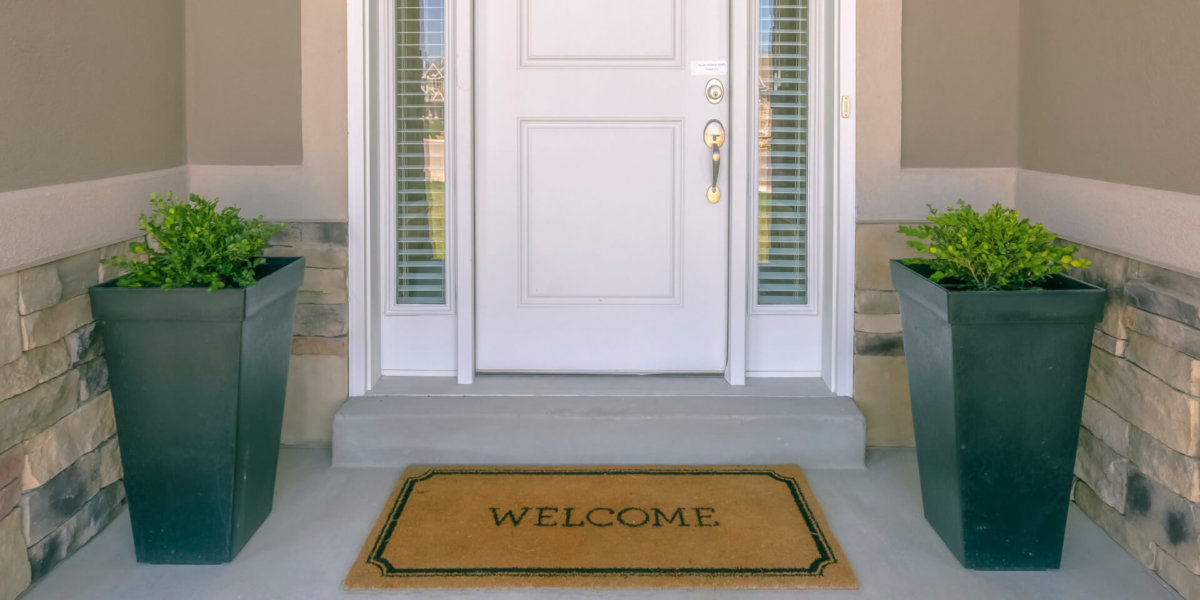 With the change of seasons, comes an itch for a change in activities, wardrobe, and home décor. In most apartment and townhome communities, there's a list of changes you can't make, like painting walls, refinishing kitchen cabinets, and planting or removing landscaping. Show off your personality and design skills on something you can change – your doorstep décor.
With that in mind, you may go straight to a seasonal wreath that you change out occasionally, which undoubtedly looks great. But, if you're looking for a more recurring project and a creative outlet, try your hand at some of these doorstep décor ideas.
Doormat
Welcome your neighbors and guests with a greeting or witty message before you even open the door; bonus – they'll be cleaning their shoes off, too! Doormats come in many different shapes and sizes and a splash of color, trendy design, or fun message is a great accent or base for your entry way.
Chalkboard Sign
Buy one or paint the interior of a tray, frame, or cupboard door with chalkboard paint for another unique and functional welcome. Fill your chalkboard sign with an inspiring quote, a message to your guests, a monogram, or your apartment number.
Flower Basket
This decoration is an easy way to celebrate spring and summer. Pick (or pick up) fresh flowers, repurpose a small basket, and fill it with colorful flowers, leaves, and branches. Hang the basket on the front door or place it on a plant stand next to the door.

Symmetrical Pieces
Looking to add some dimension and contrast to your doorstep? Try creating a symmetrical look with two identical potted plants on each side of the door or two portable, solar powered lanterns. Ferns might look great in spring if you have a small porch in the shade and pine trees are festive and durable in the winter months.
Wall or Hanging Planter
Utilize the simplicity of nature with a latched wall, rail, or hanging planter. Find planters with the color, texture, and shape that best fit the exterior style of your apartment or townhome.
String Lights
Illuminate your walkway with a string of soft white lights; run them around your potted plants, flower pots, or in a decorative wreath. Show off your style and light the way to your door in the dark.