Decorating With Contact Paper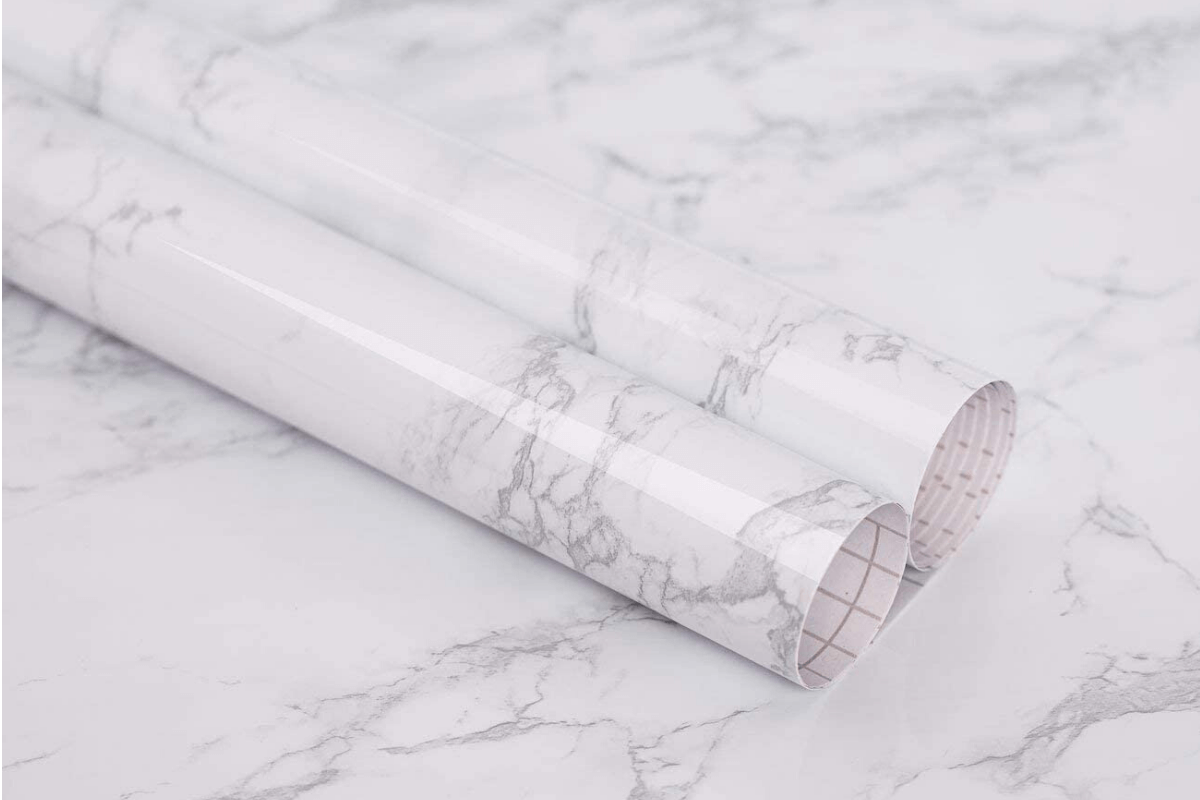 February 2020
If you're looking for inexpensive decorating ideas to give your apartment a facelift, contact paper is a great option. This temporary wallpaper alternative has a design on one side and adhesive on the other. It's sold in rolls, comes in a variety of shades and textures, and can be easily cut to. Like wallpaper, there are an endless array of designs, along with popular styles like marble, granite, brick, wood, and stainless steel.
Durable, easy to apply, and temporary, contact paper is perfect for decorating an apartment. When you're ready for another change or your lease ends, removing the design is simple. Just use a hairdryer to heat the paper and peel it right off. Any leftover residue can be washed with an adhesive remover to leave the wall or other household surfaces clean and damage-free. Consider these décor ideas for contact paper.
Wall Decal Design
Make a statement with an accent wall by choosing a simple design like brick or shiplap. It will draw immediate attention from anyone who enters the room. Or get crafty and cut out a fun design to make a more dynamic wall in your home. From floral outlines to geometric shapes, there's something for every style. To spice up a child's room or play area, try using chalkboard contact paper, or create a helpful list-making space in the kitchen for weekly meal planning or family activities.
Shelf and Drawer Décor
We've all used adhesive paper to line shelves and drawers, but with new patterns and styles to choose from, contact paper can turn it into another way to brighten up a space. To add excitement to simply opening a drawer, cover both the sides and the bottom with a bold, unexpected color that pops at first glance. To keep your pantry and cupboard shelves clean and classy, line them with pretty contact paper as well.
Window Privacy
It's often difficult to have both light and privacy in an apartment. Curtains block out the sun, while plain windows can leave your every move exposed. For a happy medium, consider covering your windows with translucent contact paper. You can purchase contact paper designed specifically for use on glass. And you can cut out unique patterns or apply the whole sheet. Don't worry about getting it perfect on the first try – with contact paper, you can reposition it over and over until you're happy with the results. 
Furniture Transformation
Add a splash of style to any room by repurposing the top of a coffee, end table, or dining table. For a more sophisticated look, try marble contact paper. If you're into farmhouse style, use a rustic wooden pattern. Pick a drab lampshade and cover it with contact paper that complements your furniture. Update an old dresser by covering the drawers with contact paper.