Area Activity Guide: Party in the Park 2018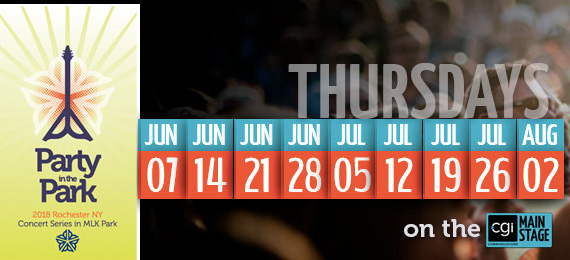 21 Years of Music
Don't you love heading downtown or putting off your commute home to spread out a picnic blanket and take in a summer concert under the stars? For the past two decades, the Party in the Park concert series has infused Rochester's Thursday evenings with excitement and eclectic entertainment. The 21st installment should be one for the record books thanks to a lineup that includes blues, funk, rock, reggae, and classic rock — plus some big names — and an array of fun new features. As usual, Party in the Park will span nine summer weeks, kicking off June 7th and wrapping on August 2nd. General admission tickets are $5, and children 12 and under get in free. The MVP Family Zone will be returning with fun activities for the family.
Names & Dates
Fresh New Features
This year, Party in the Park will delight concertgoers in a variety of new ways. First, there's the VIP Ultra Lounge experience, which gives a limited number of pass holders access to an exclusive lounge with cash bar, table service, and private restrooms — as well as to the front of the stage. A new attraction that everyone can access is Bazaar in the Park, a showcase of local businesses and craftspeople focused on art, crafts, fashion, and discovery. Those who enjoy brews will want to head over to the Craft Beer Garden with rotating taps, while those who prefer things light and airy will get a kick out of the bubbly bar, which sells only champagne, prosecco, and sparkling wine. Should the summer nights turn sweltering, the sangria slushies will be sure to sell out. In the case of a summer shower, on the other hand, the shows will take shelter at ANTHOLOGY.
A Little Bit of Logistics
The 22nd annual Party in the Park concert series will take place every Thursday from June 7 to Aug. 2 from 5 to 10 p.m. Music starts at 5:30 p.m. Tickets are $5 (children 12 and under are free).
Tickets and VIP passes can be purchased at the gate, through Ticketmaster, or at the Blue Cross Arena at the War Memorial box office, 100 Exchange Blvd.
Patrons may bring one sealed bottle of water into the Party in the Park concerts. Lawn chairs, bicycles, skateboards, in-line skates, and pets will not be allowed in.
Parking
Washington Square Garage, 111 Woodbury Boulevard
Court Street Garage, corner of South Avenue and Court Street
East End Garage, 475 E. Main Street
HSBC Garage, 100 Chestnut Street (enter on Broad Street side)
Strong Museum Parking Lot ($7 after 4:30; enter from Woodbury or Pitkin; no overnight parking)