Resident Alert: Ridesharing Safety Tips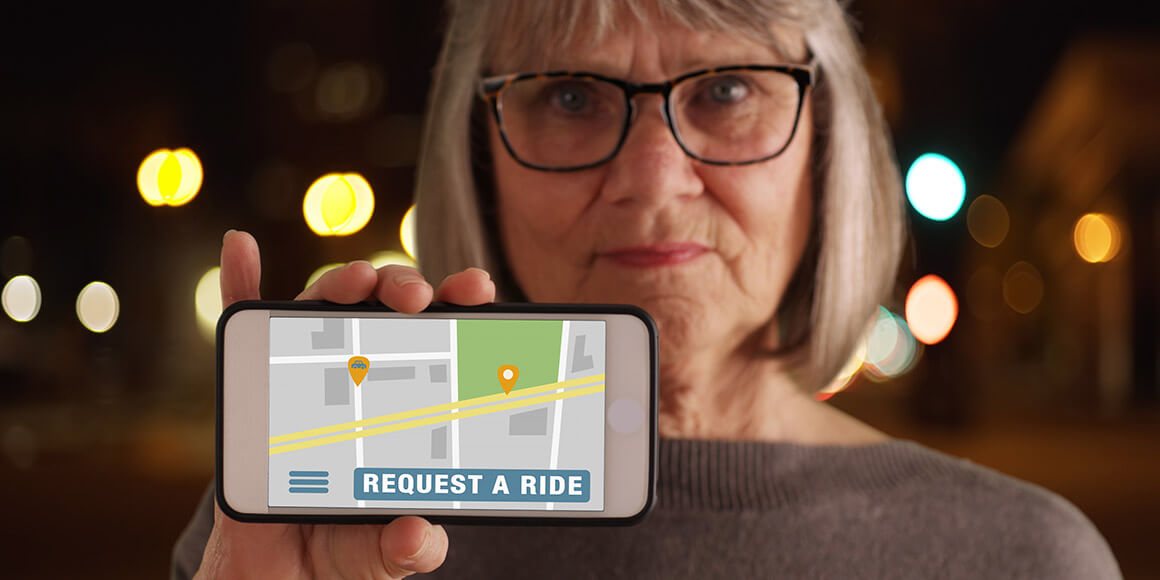 An Option for Everyone
If you're over the age of 50, you're far less likely than the average urban millennial to use services like Uber and Lyft to get around. Still, as of July 2018, 23% of those aged 50 to 64 and 13% of those aged 65 or older reported using ridesharing services. More than likely, if you're familiar with these apps and the services to which they provide access, you're also aware of the safety concerns that have arisen around them. If you'd like to keep your transportation options open, the tips in this article can help you to protect your personal safety when you request a ride. And here's another. Before you need a ride, install your preferred ridesharing app and review its features.
Why Rideshare?
The convenience, affordability, and relative safety of ridesharing are undeniable – so much so that grabbing rides on demand has become the default transportation option for some. Though negative events are high-profile, they're also uncommon, and companies like Uber and Lyft are working to make them even less likely. If you're curious about ridesharing or count yourself among those for whom it's become part of a regular routine, the best thing you can do is take steps to ensure your own safety. Here are some simple actions you can take to reduce your risk and enhance your ridesharing experience.
Ridesharing Safety Tips
Plan ahead.
Read up on ridesharing safety tips (like these!) and features before you actually need to utilize the convenience of the service.
Order inside.
If at all possible, request your ride while indoors and wait until the app shows the driver has arrived before you step outside. If you have no choice but to wait outside, do so with a buddy or minimize your time spent alone, looking at your cell phone.
Concerned? Cancel.
Before you order a ride, check your driver's details and reviews. Once you've made your request, look at the identifying information. If you feel uncomfortable with the driver's rating or anything else, cancel and request a different ride.
Verify driver details.
Before you get in a car, verify that the car make and model, license plate number, driver photo, and driver name all match the details shown in the app. Finally, ask the driver who they're picking up. If it's your driver, he or she will know your name.
Share your status.
Always let a friend or family member know where you're going and when. If you use Uber,  tap "Share status" to share your driver's name, photo, license plate, and location. If you request a ride through Lyft, hit the "Send ETA" icon to text your trip details to someone you trust.
Ride in the back.
When you're traveling alone, sitting in the back ensures you multiple options for a safe exit should you need one. It also gives you much-needed personal space.
Protect your privacy.
Ridesharing apps give drivers all the information they need. There's no reason to share your phone number or any other personal details with your driver.
Wear a seat belt.
It's the most effective way to save lives and reduce injuries related to car accidents.
Leave feedback.
Ride-sharing platforms rely on user reports to identify issues. If you have a problematic or concerning experience, don't hesitate to report via the app.
Emergency 911.
If you ever feel that you're in an emergency situation while ridesharing, call 911. If you can, get out of and away from the vehicle and into the nearest public place. Report all crimes, whether actual, attempted, or suspected, to the police.