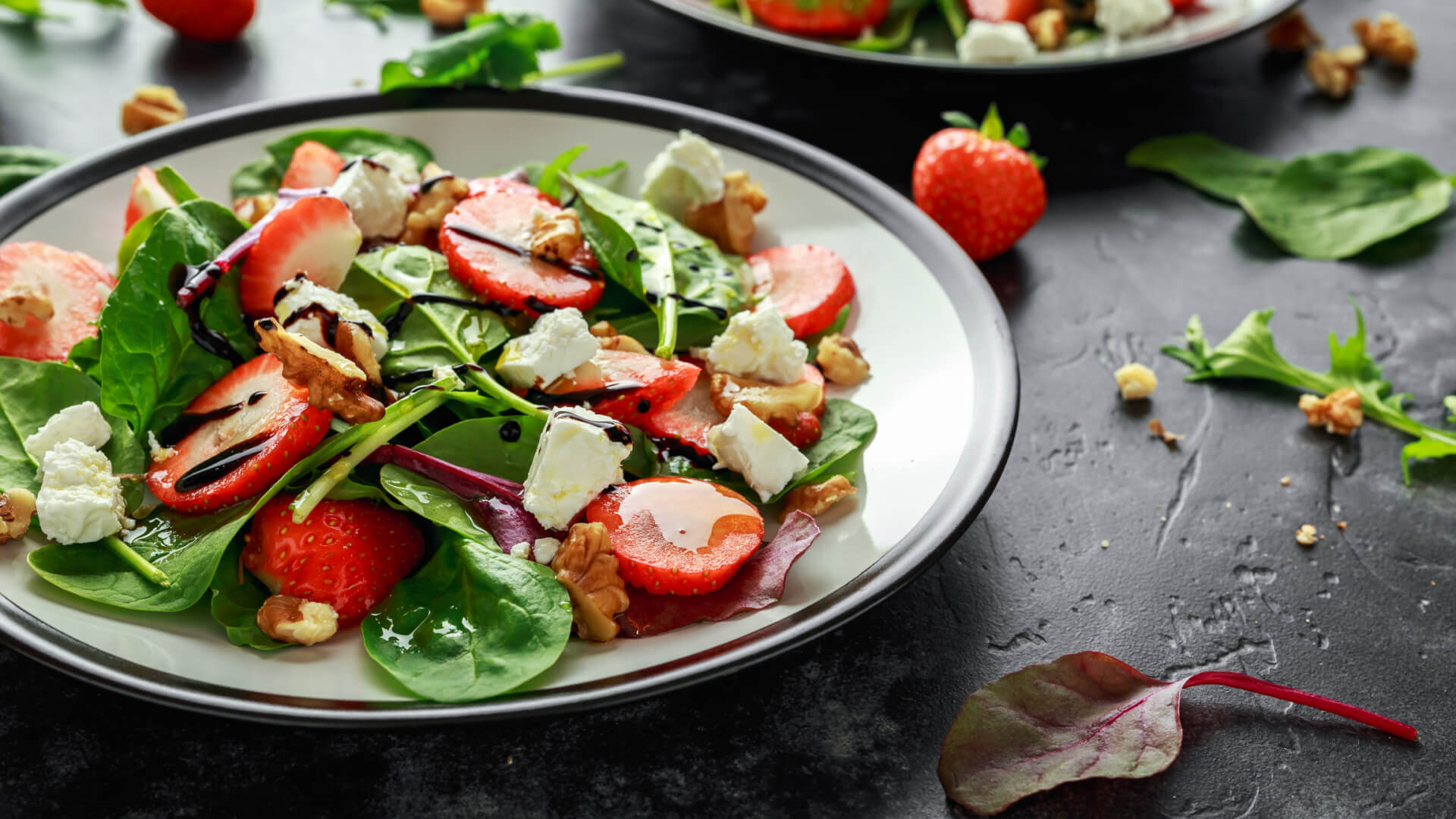 One of our favorite things about springtime is the opportunity to add more fresh fruits and vegetables to our plates. Lush greens, colorful fruits, and bittersweet vinaigrettes all make a for a delicious salad selection. Toss in some nuts, crumbly cheeses, and grilled veggies or meat for a picturesque and delicious lunch or side dish. Stock up on seasonal fruits and veggies at the grocery store or the farmer's market to brighten up your average salad. To help you enjoy the produce of the season and embrace its flavor, here are some fresh spring salads.

Spring Salad with Asparagus, Goat Cheese, Lemon, and Hazelnuts
One of the highlights of spring produce is asparagus. Whether it's green or white, try building an asparagus salad, paired with fresh goat cheese, crunchy hazelnuts, shaved parmesan, and other veggies. Gently roast your asparagus in olive oil, make a lemon dressing, and toss all of the ingredients together. Garnish with cheese and lemon. Get the full recipe here.
Strawberry Spinach Salad with Poppy Seed Dressing
This salad is sweet, tangy, minty, and fresh. Made vegetarian or with grilled chicken, it's a great choice. You'll add baby spinach, sliced cucumber, lots of strawberries, mint, and almonds. Finish it with a homemade lemon poppy seed dressing. Get the full recipe here.
Creamy Basil Potato Salad
A classic dish for a spring cookout, this salad uses baby red potatoes, scallions, and fresh basil to cut its richness. Whisk together crème fraiche (or mayo), Dijon mustard, and fresh lemon juice for a tasty coating over the cooked potatoes. Get the full recipe here.
Springtime Cobb Salad
Like a classic Cobb salad, this still has crunchy bacon bits and hard-boiled eggs, but it's spring makeover comes from piling on more veggies and adding crispy garlic chickpeas. With butter lettuce, asparagus, grilled artichoke hearts, and a lemon vinaigrette, this Cobb salad looks a lot greener and more balanced. Get the full recipe here.
Tangy Charred Slaw
Time to bust out the grill for the season. Brush green cabbage with oil, place on the grill to char for extra flavor, and then dress the slaw with a zesty lime juice. With Napa cabbage, fresh mint, and peanuts folded in, this side dish has the perfect crunch. Get the full recipe here.
Spring Green and Quinoa Salad with Lemon Mustard Dressing 
If you're really looking to go green this spring, try this salad. Toss lightly cooked snow peas, sugar snap peas, and broad beans with cooked quinoa. Add a layer of toasted poppy seeds and fresh mint leaves. Finish with a light lemon mustard dressing and take the level of green up another notch by adding in some fresh mixed greens. Get the full recipe here.
Green Goddess Carrot Salad
Spring is sweet smelling, like caramelized roasted carrots with a homemade green goddess dressing. Place roasted carrots over a bed of Bibb lettuce, with leaves separated and torn, and drizzle dressing made with the freshest ingredients and herbs on top. Get the full recipe here.