David Dorfman Dance at Nazareth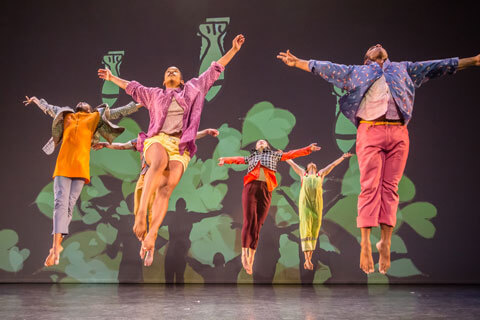 An Abundance of Arts
One of the well-known but always unexpected perks of living in Rochester is access to world-class arts. With the Eastman School, an internationally renowned jazz festival, one of the world's largest Fringe Festivals, and museums like the MAG and George Eastman House, there's an almost unbelievable abundance of masterful performance taking place each year in the Flower City. In addition to the wealth of locally based talent, Rochester manages to draw some of the biggest names in the performing arts to its venues.
Dance in Rochester
Modern dance is among the quieter facets of the local arts scene. Garth Fagan and PUSH Physical Theatre are among the better-known companies generating a certain level of buzz. If your hunger for physical performance remains unsatiated, you'll want to take note of an upcoming February visit by an intense and innovative New York dance company. David Dorfman Dance will perform its current touring work, Aroundtown, in the Callahan Theatre at Nazareth College Arts Center the evening of Thursday, February 21st, 2019.
Exploring Togetherness
Through movement, music, and monologues, Aroundtown explores the meaning of love in times of violence and strife. The company's trademark empathy, sly humor, and bombastic physicality are harnessed to examine love as both sociopolitical and intimate weather systems. In a review by the Bates Dance Festival following its premiere, Aroundtown was called "a physical metaphor emphasizing community, hope, and love" and "an astonishing and beautiful feat of humanity." With original music, text, and visuals presented by 6 dancers, Aroundtown is sure to speak to anyone who struggles with ideas of self and society in the present day. A post-show talk with David Dorfman and the company will follow the Nazareth performance.
Single tickets are $25-$50 per person and available online.